05 juillet 2010
When i first arrived in London, among a few things, I discovered a more than charming street, in a charming area with lovely shops.
A lot of « charming » in the same phrase but it is indeed true. Kensington church Walk is situated between Holland Street and Kensington High Street. It's a really nice walk, following the walls of St Mary Abbott's church, hiding a cute park where children, mummys,local workers and lovers come to rest, have a bite and others.
There are also a few shops (very posh indeed but worth a visit for some), definitely very english, and it's one of us I am talking about now.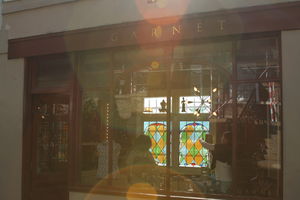 Garnet is a jewelry shop, and what a wonderful one. It is very small, but the « décor » is really amazing, and done with lots of taste. The owner , Shirley, is just a charming woman, very helpful, warm and chatty. The choice of jewelry is exquisite, you can find everything from glass to real gems, sterling silver, gold, a beautiful choice of Victorian jewelry, and some other wonders, I remember spotting a super glamorous pair of authentic Chanel earrings for instance.
Of course, all this has a price, but I must say the range of prices is really good, there's something for everyone. For my kind of budget, wich is more modest I must say, Shirley has often something called « the 10£ table » (well that's how I call it anyway). It's some kind of sale that take place quite often, and i found really nice objects there. A beautiful blue glass bead bracelet, and an adorable small victorian box (genuine victorian area, that satisfies my obsession with this period of time).
I strongly recommend this shop to anyone, and so easy to find so close to High Street Kensingon and all the other high street shops.
Garnet
Kensington Church Walk
London
Commentaires sur Garnet