14 février 2010
But who is the 49 for starters ?(i hear you shout and cry). Well it's extremely simple, the 49 is in fact a bus and it's the one I take everyday to go to work. i took it ever since I arrived here, about 5 months or so, I moved flat and it's still number 49 that is on my line, "imagine that" (please read this Vince Noir style, my Pauline would know who I'm talking about)
Anyways! I wanted to pay a tribute to this beautiful(ugly) motorized vehicle that takes me to hell and back everyday. At first our relationship was very loving, it was always there when I needed it and always trustful. Pretty fast as well, except for all the engineering work that take place ALL OVER LONDON (no worries I can handle this, I'm not near a nervous breakdown at all)
And then one night, I was waiting for it to take me back to heaven (home), and I waited for it about 20 mns, in the snow and in the cold cold wind. Needless to say I was a bit...disappointed, to say the least. Then the wait happened again, and again, and again...until i had a talk with an old lady (you know, the pepperpot type yay) who told me "I don't understand, it's been over 2 weeks now that the 49 is late like that, it wasn't like this before, and blablablablabla...." then at that point, thank god, the 49 arrived.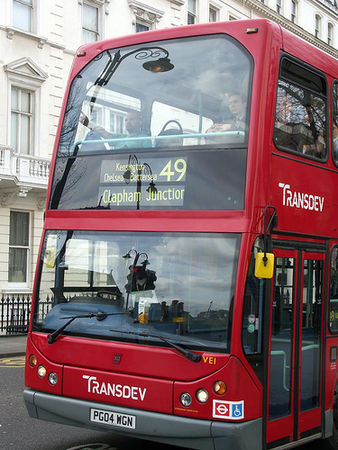 And that's how the hate part of the relationship started. It was late over and over again, i couldn't trust him anymore, it got me late for work and eventually made me cry (combination of very strong icy wind, hail and snow,being late and nowhere to hide). So yes sometimes I hate it. But at that moment....when you think that all is lost and you might eventually take another bus that will get you closer but not really there and takes twice as long time and ,sod it, you're gonna be late anyways...at that moment it arrives. I can see his beautiful number 49, approaching from the far in the snow. All of a sudden i can't think anything, no rain, no snow, no hail, no cold. My eyes are enamoured with that big red figure that is coming towards me, and i forget everything bad I was thinking.
Except when that b*****d pretends not to see me and doesn't stop. Or people push to get into it. That just gets me on edge really...but it is still my favorite bus, even if sometimes i go on other buses...for now he is the one.
Well I'm so sorry but I must go now. I know how difficult it is, but I'm afraid it is the sordid and true reality. But no worries precious reader, I'll be back!
PS: If you can find who are my influences in this post, you could win a...thing (possibly my eternal respect)
Ok, now I'm off to Hammersmith...on foot
Commentaires sur My love-hate relationship with the 49